Announcements:
Staying healthy and​​ well during a pandemic
As some of us begin working remotely or in different ways, it is important that we continue to focus on our physical, mental, and social wellness. Please continue to check this page as the team at Tower Fitness at the CORE is actively curating various resources for members to access on all wellness type topics.
Don't let your kitc​​hen table get the best of you!
Working from home can be great! You can do your laundry, eat whatever you want all while still getting all your work done. These are all great things that can happen while working from home but here are a few things to consider:
Workstation set-​​up
Many of us have safe, familiar, and comfortable workstations while working at the office. When not used to working from home here are a couple things you should look for to still stay comfortable.
If available set yourself up at a home computer table that includes a keyboard tray, monitor and mouse station.
If a computer table is not available, then pick an area that allows you to sit comfortably (with your arms and shoulders down and either upright or leaning back in your chair)
Be careful of table edges that may cause 'contact stress' to your hands, wrists or arms
Pick a chair that is either adjustable or set at a height that will allow your legs to be at about 90 degrees and will be comfortable for you to sit on for 30-60 min consistently without leg, back, shoulder or neck pain. 
If you are using a laptop, consider using:

A mouse (using the finger pad will put your body in a contorted position and may overuse your finger muscles that are not used to this new position)
A separate wireless or wired keyboard (most laptops have surfaces below the keyboard that are quite hard and cause 'contact stress' which often develops hand, wrist or arm pain when using for long durations)
An external monitor (this provides a larger viewing area and allows you to sit up comfortably in your chair without having to lean into the laptop screen to read it)
I like to move it, move it!
Movement
While working from home and one thing you will notice is that we have no distractions (unless you have kids of course). When there are no distractions even temptations that come from doing laundry and raiding the cupboards are not enough sometimes to pull you out of your chairs.
Here are some tips on what we do to keep active and move throughout the day:
Get in a workout before your works starts (Virtual Videos – go to your ShapeNet App or sign on from the member portal page – purple box with virtual videos)
Get up every 30-60 mins and do at least one lap of walking around the house (or put laundry in the washing machine or dryer)
Take a position break and take your laptop to a tall kitchen counter and work from there for 5-15 mins and then move back to your more ergonomically safe work station.
Hello?  Can you hear me now?
Social Distancing but Keeping Social​​
One thing that we know is when we work from home things can be quiet. The quiet is very nice in short duration but we notice that loneliness can happen quickly when we are used to normally having so many interactions and distractions at the office.
Here are some tips we use to keep from being hermits:
Set-up virtual meetings and make sure we turn on both audio and video. Nothing cheers you up quicker than seeing your coworkers in their best pajama's and housecoat 😊
Listen to your favorite music or podcasts while working away
Take a mid-day break and video call a friend or family member (not sure if you have experienced this but our team has – more often than not, we are not able to connect through our phones so video calls are becoming our norm!)
Go for a walk around the block and connect with your neighbors (but keep in mind social distancing!)​
Coronavirus Update
Effective Monday, March 16, 2020 at 6:00 pm, Tower Fitness at the CORE will be CLOSED due to the developing situation regarding COVID-19. All programs (including group exercises classes, personal training, and workshops) will be cancelled. If you are currently registered in our group exercise classes we will extend our current session to cover any time that will be missed.
We will continue to monitor the COVID-19 situation as it changes. We will keep you updated regarding when Tower Fitness at the CORE will re-open and when our programs will resume.
How to get your sweat on while away from the gym! Check out our virtual classes on the Tower Fitness at the CORE app or online through the member portal. Click on Virtual Work-out and you can pick from many different styles – Cardio, Dance, Strength, Fight Fit/boxing, Meditation, Pilates, Yoga and Stretch!! There is so much for you to explore and do from home!
We thank all of you for your patience during this time.
If you have any questions or concerns, please email sstranaghan@towerfitnessatthecore.ca.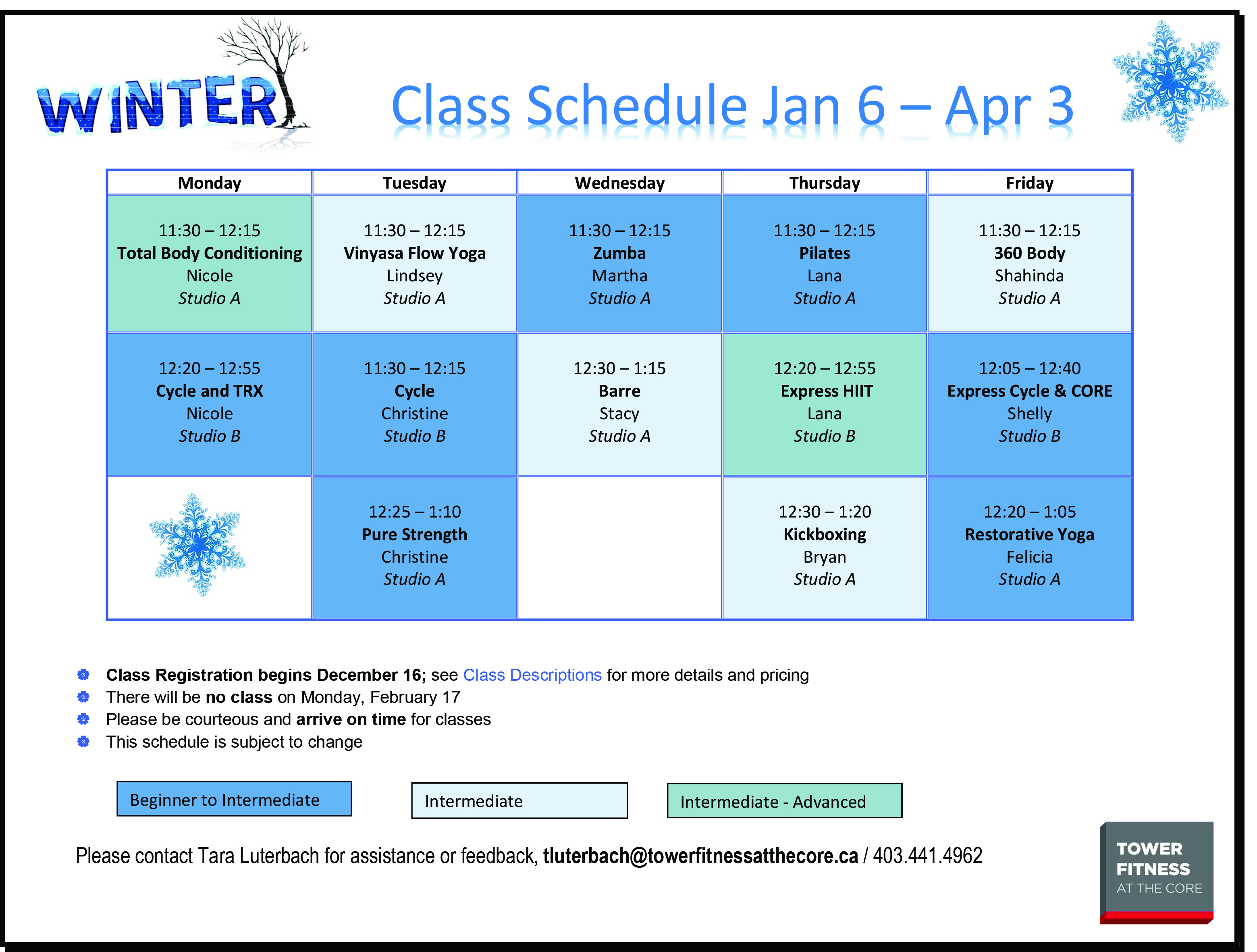 Winter Class Schedule!
This schedule will be effective January 6th – April 3rd.  No classes on February 17th.
Go to our Member Portal to register!
---
Member App!
We have an app that can be downloaded to your phone and makes it easy to add classes, purchase drop ins or personal training and manage your schedule!
Search for: Tower Fitness at the CORE in your App Store.
If you have already signed up through our Member Portal you will use your username and password that has already been created. If you don't remember please contact us and we can reset it for you! 403-441-4962
---