Season's Greetings!
We here at Tower Fitness would like to wish all of our members a restful and joyous holiday season! We have some exciting festive surprises planned and we encourage members to check in with staff to learn more about what's in store!
Operating Hours
Monday to Friday  5:00 am – 7:00 pm
*NEW* Weekend Hours –

Group Fitness Classes – Winter Schedule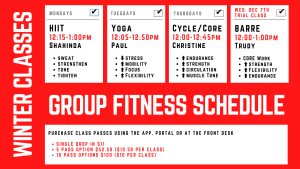 Optimal by LIV North – Your at home / Online Fitness Centre!

When working from home you can connect to LivNorth Instructors and content. With Optimal by LIV North, you will have free access to:
 A variety of live streaming fitness, mindfulness, stretch and education sessions. 
An ever growing on demand library available 24/7 on your computer or mobile device. 
Fun and engaging contests and challenges to include fitness, nutrition and mindfulness PLUS the chance to win prizes. 
Access from your computer or use our mobile app to join in from anywhere!
All of this is FREE for Tower Fitness at the Core members! 
To join please register using the link below. 
https://www.wellnessliving.com/rs/catalog-view.html?id_sale=1&k_id=1888687