Group Fitness Schedule
Check out the in-person class offerings below to see what fits into your schedule! You can sign up 7 days in advance through our member portal or the Tower Fitness at the CORE network application.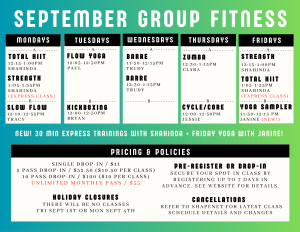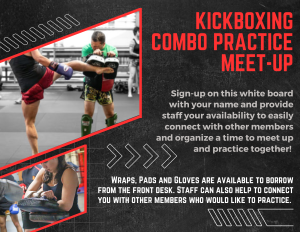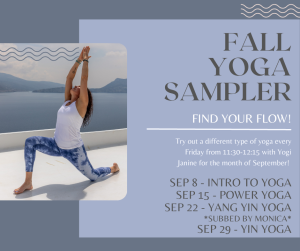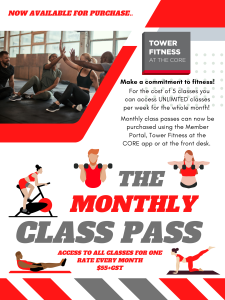 Class Descriptions
Our instructors arrive 10 -15 minutes early, so if you are unsure whether the class is the right fit for you, come and speak to us at the front desk.  We would love to help you to determine what your best option might be and answer any questions you may have!
HIIT
Instructor – Shahinda Ali
A High Intensity Interval Training workout consists of short bursts of intense work lasting anywhere from 10 to 60 seconds, followed immediately by a period of active recovery of the same length or longer. This cycle of hard work and recovery is repeated anywhere from 3 to 10 times, depending on the workout.
Strength 30
Instructor – Shahinda Ali
Get your heart pumping in this beginner to intermediate strength class, without the high impact cardio. Get an amazing full-body workout using a combination of light-moderate weight dumbbells & body-weight exercises. This is an express class, meaning you get the same great Strength workout in just 30 minutes!
Barre-CORE
Barre-CORE is a fun and challenging fitness program that offers a dynamic and engaging workout designed to enhance your balance, flexibility, and strength. This low-impact class provides a comprehensive workout for your entire body, fostering muscle sculpting and toning through a blend of stretching, isometric poses and controlled movements, all set to an energizing playlist. Whether you're just starting your fitness journey or you're a seasoned enthusiast, Barre-CORE offers modifications to suit all skill levels and warmly welcomes and embraces individuals of all physical shapes and sizes.
Instructor – Laura Brain
Slow Flow Yoga 
Instructor – Tracy Mann
This class is similar to traditional flow yoga, however each position is held for a longer duration and the pace is slowed down. This allows for a more peaceful and meditative practice, where several rounds of breathing can be performed during each posture.
Flow Yoga
Instructor – Paul Larmer
De-stress, gain flexibility, improve your range of movement, keep mobile & functioning. Move dynamically from one posture to another, with near constant movement, following the breath and fostering a meditative mental state! You do not need any previous experience in Yoga, so come on down and challenge your strength, balance & stability!
Kickboxing
Instructor – Bryan Adolf
Using speed, agility and power, kickboxing combines the punches, upper cuts and hooks of boxing with powerful martial art's kicks to create an intense workout. This class incorporates aspects of cardio and strength endurance through a combination of solo and partner work. ALL skill levels welcome!
Barre
Instructor – Trudy Lamb
Barre is an excellent full-body workout that includes classic ballet movements, as well as more traditional interval training exercises, all choreographed to energizing music. Using a combination of dumbbells, glute bands and sliders, this upbeat workout is sure to build a strong core and lower body!
Cycle & Core
Instructor – Jessie Fletcher
Cycling classes are a great option if you've become bored with running or walking. It's a fun cardio workout that will challenge and inspire you with a high-energy vibe and motivating music. The first 35-40 minutes of class are pure cycling, followed by 10-15 minutes of stretching and core work. All levels are welcome to attend, but first-timers should plan to arrive ~10 minutes early so that the instructor can help you get your bike setup!
Zumba
Instructor – Clara Mata
Are you ready to party yourself into shape? This class includes easy to follow choreography in a combination of low and high-intensity intervals. This full-body calorie burning class takes the work our of workout! New to group fitness? This class is an excellent place to start!
Strength
Instructor – Shahinda Ali
Get your heart pumping in this beginner to intermediate strength class, without the high impact cardio. Get an amazing full-body workout using a combination of light-moderate weight dumbbells & body-weight exercises.
Yoga Mix
Instructor – Janine Herman
New to Yoga? This is the perfect class for you! Join us every Friday with instructor Janine Herman, as she leads a series of classes that explore different types of yoga! From beginner to Yin, there's a class for everyone! Every first class of the month will be an Intro to Yoga, followed by a flow class, Yin-Yang and finally a Yin Yoga class for the final Friday of the month. End you week right with this class!
You can pay & register for a class by:
App: Search Tower Fitness at the CORE in the App Store
Member Portal: https://hsgthecore.cshape.net
In Person at the desk (debit or credit card)
On the App or Member Portal
Username is always lastname-firstname (never email). If you forget your password let us know and we can quickly reset it for you!
To register, you will need to have either drop-in passes or a monthly pass loaded onto your account. We have 3 options for purchasing:
Single Drop-in – $11.00
5 – Drop-in package – $52.50
10 – Drop-in package – $100.00
Monthly Class Pass – $55.00
You're first class is free! To cash in your free class, speak with staff to let them know which class you would like to attend. 
Steps:
Sign into the member portal or app.
Click Purchase Drop-In Class or PT.
Select Drop-In Five, Single, Ten or the current monthly pass.
Once you have purchased your passes, return to the main menu and select "Register for Drop-In Class".
 Choose the day (you can book 7 days in advance).
Select the a class.
Select "Register" and "Add Appointment".
To remove yourself from a class you can no longer attend, go to "My Schedule" from the main screen and choose "Drop Class" (you can do this up to 1 hour prior to booking time).
---